Tim Waterfield Builders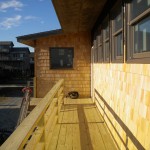 Welcome to North Carolina's Outer Banks! Tim Waterfield, the Premier Builder on Hatteras Island and The Outer Banks, is a 5th generation local resident. Tim has been an active member of the Outer Banks Homebuilders Association for 15 years. Born and raised on Hatteras Island, Tim Waterfield has been a Hatteras Island and Outer Banks construction specialist since 1983, specializing in new construction, remodeling, and home repairs.
Having lived on Hatteras Island his whole life and having built numerous houses in the past 28 years, Tim has perfected the art of OBX Construction. From custom homes and carpentry to framing, siding, and window or door replacements there isn't a job that Tim Waterfield Builders can't handle! Tim's Hatteras Island and Outer Banks Construction expertise expands from interiors to exteriors. Experts at roofing and roof repairs, Tim will have your leaks fixed in no time! Tim's crew also builds decks and wrap around porches complete with handrails or picket fencing.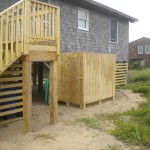 If you are in need of Hatteras Island or Outer Banks Construction, remodeling, or home repairs Tim Waterfield is a trustworthy, reliable home maintenance expert who uses top quality products and workers producing long lasting results. Tim lives in Buxton on Flowers Ridge Road with his wife and three children, but serves the entire Outer Banks with OBX construction services!
The Outer Banks
North Carolina's Outer Banks is a popular vacation spot for visitors from all over the world. Featuring unspoiled beaches, unique fishing communities, and endless outdoor or water adventures, OBX is an ideal place to own a vacation home or settle in a permanent residence. The area thrives on seasonal tourism, but these inspiring areas can be enjoyed year round if you seek serenity and relaxation.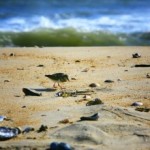 Homes, Condos, and Townhomes are dispersed along the chain of islands and feature everything from small cottages to large family homes or duplexes. If you are investing in property on the Outer Banks it is important to choose a capable and reliable contractor to build your new vacation home or repair or remodel  your residence. The Outer Banks can experience harsh weather and a corrosive climate, high-quality custom design and long lasting repairs are vital in preserving and sustaining your property for the future!
Tim Waterfield has lived on the Outer Banks his whole life and is, therefore, a seasoned expert specializing in Hatteras Island and OBX construction, remodeling, and repairs. With free estimates, guaranteed customer satisfaction, a capable and professional crew, and the finest tools and materials, Tim Waterfield Builders is your one-stop solution to all of your home maintenance needs! Invest in a trusted, local expert and get top notch results!